Late effects: Fatigue
People who have undergone stem cell transplantation often complain of feeling fatigued, even some time after the treatment.
Why does fatigue occur?
Fatigue occurs when a person feels tired sooner than usual after exertion and sometimes even without exertion. People describe their fatigue as a feeling of listlessness, weakness, inability to concentrate, and being slowed down. While no one is sure what exactly causes fatigue, we do know that it can be severe, that it varies from person to person, that it can begin gradually or start suddenly, and that many factors can contribute to it.
Factors contributing to fatigue
The following factors can contribute to fatigue in transplantation patients:
Medications
Infection
Fever
Pain
Inadequate nutrition intake
Anaemia (a reduced amount of red blood cells)
Shortness of breath
Psychological factors such as anxiety, grief, and depression can also cause fatigue, as can changes in sleep patterns, immobility, relationship problems, and dealing with tests and treatment(s). Sometimes making trips to the hospital for treatment can add to fatigue.
What can I do about my fatigue?
The first step in handling fatigue is to let your doctor know you are experiencing it.
Be sure to report the level of your fatigue when you talk to them. It is helpful if you can be specific, such as "I was so tired that I couldn't work for three days" rather than "I was really tired."
For one week, keep a list of your activities and how you feel when you do them. Is there a pattern to your fatigue? Based on the answers to these and other questions, your doctor may be able to suggest the best ways for you to handle your fatigue.
How can I manage my fatigue?
The following strategies can help you manage your fatigue:
Establish a sleep pattern. Avoid stimulants such as caffeine, alcohol and cigarettes, especially after 6pm, as they may prevent you from falling or staying asleep. You may also want to try a relaxing activity such as listening to music or reading before bedtime.
Develop a routine. Learn the cycle of when you need to rest and when you have energy for activity. This can help you plan your days.
Take short naps and rest during the day. Once you identify the times when you are most fatigued, you can schedule rest periods. Mix rest with activity to build or maintain your stamina. Rest often before you feel fatigued.
Plan your activities. It may help to prioritise what you like to do each day. This will help you save your energy for things that are necessary and most important to you. Schedule important activities for those times when you have more energy.
Try to eliminate activities that make you most fatigued. Look at your list of activities and remember how you felt when you did them. Ask for help. Don't be afraid to rely on support from family, friends, or social agencies (many organisations provide transportation and help with cooking and cleaning). Ask to speak with a social worker for more information about getting help.
Make your preferences known to friends and family. For example, some people prefer not to talk on the telephone because they find conversation exhausting. If you're in this group, ask friends to drop you a note instead of calling. Many patients use their answering machines to screen their calls when they are fatigued. This way you can talk to people when you feel up to it. Other people find that talking with loved ones helpful. In this case, tell people how much their calls mean and ask them to call often.
Ask your doctor for help managing pain, nausea, vomiting and not being able to sleep. These can all add to your fatigue.
Eat a nutritious diet. Eat small, well-balanced, nutritious meals and snacks. Smaller meals require less energy to digest than larger meals and provide energy evenly throughout the day. Speaking with a dietician may also be helpful.
Keep socially active. Don't cut yourself off from your friends. Time with them is important, but be sure to pace yourself.
Seek support. Your family and friends may help you deal with stress and fatigue. You may want to join a patient support group.
Ask your doctor for help dealing with anxiety and depression. Learning relaxation techniques such as imagery may help you manage anxiety.
Walk daily, with your doctor's approval. Physical exercise may help increase your energy level.
Many transplantation patients find that spirituality, religious practices, or both, bring peace and help with concerns and worries. Sometimes it helps to talk to a clergy person about any concerns, even if you do not think of yourself as religious.
How can I save my energy?
The following strategies can help you save energy:
Stop and sit to rest often if you feel tired
Take your time with your activities and sit while you work
Don't hold your breath
Sit on higher seats, which are easier to stand up from than low seats
Work at a table or counter top that is waist-high
Organise and store your work items where you use them and can get them easily
Keep a good posture
If you must reach for something lower than arm's length, squat or bend at the knees not your back
Sit in front of a mirror or sink for activities that take more time, such as putting on make-up or shaving
Keep your hair in a style that is easy to care for
Use a caddy over your shower so you do not have to reach and bend
Wash your hair in the shower, not over a sink
Use a bench to sit in the bathtub while you shower.
Use a sponge or brush (such as a back brush) with a long handle to scrub your feet and other areas that may be hard to reach
Dry off with a towel while sitting or put on a terry towelling robe
Choose your clothing and lay it out before you begin to get dressed; select shirts or blouses that button at the front and bottoms that fit loosely
Exhale when you bend and inhale when you reach for something
Sit on a chair or at the edge of your bed to get dressed
Clothe the lower part of your body first.
Place your underwear inside your pants and match the waistbands together. This way you can insert your legs into the underwear and put on your pants at the same time.
Sit down to put on your socks and shoes, bringing your foot to the opposite knee
Wear slip-on shoes with low heels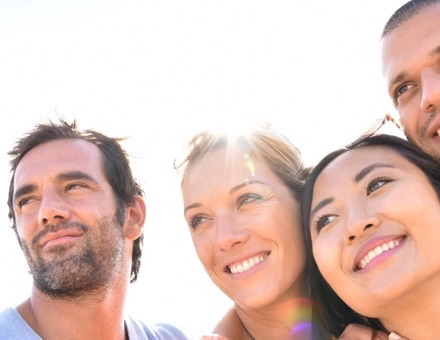 We care for and treat people who have ongoing health problems caused by cancer or cancer treatment.
Find out more