Late effects: Second cancers
Learning about the risk of developing a second cancer can be frustrating and anxiety provoking. After your battle with your blood disorder and stem cell transplant, the last thing you want to be reminded about is the risk of developing a second cancer.
For a variety of reasons, the risk of cancer increases for everyone as they get older. Several studies have shown that as transplant patients become older, they have a slightly higher risk of developing (a second) cancer compared to people their same age in the general population. Things that can contribute to this risk are the person's age during therapy, their specific treatment, whether they had graft versus host disease and their family history.
Who is at risk for second cancer?
People who received certain chemotherapy drugs
Some treatments for blood disorders increase the risk of second cancers. Rarely, people can develop acute myeloid leukemia after treatment. Secondary leukemia usually occurs, if at all, within the first 10 years following treatment of the original blood problem.
The risk of developing a secondary leukemia is increased for people who were treated with high doses of alkylating agents (such as cyclophosphamide or nitrogen mustard), epipodophyllotoxins (such as etoposide or teniposide), and anthracycline chemotherapy drugs (such as doxorubicin or daunorubicin).
People who received radiation therapy, especially at a young age
Radiation therapy (such as total body irradiation (TBI)) increases the risk of developing a secondary solid tumour as a person ages.
The most common sites include the skin, breast, central nervous system (the brain and spine), thyroid gland, and bones. In contrast to secondary leukaemias, secondary solid tumours most commonly appear 10 or more years after treatment.
People who have or with a history of chronic graft versus host disease
In people who have undergone an allogeneic transplant (from someone other than yourself), the presence of chronic graft versus host disease, either now or in the past, may increase the risk of certain cancers.
People who have a history of cancer in their family
Some people have inherited gene changes (mutations) that increase the chances of getting a second cancer. Overall, this is relatively uncommon and accounts for less than 10% of patients with cancer. If you have any questions or think that cancer may "run in your family" you should talk to your doctor.
What if you are in a high-risk group?
Find out if you are at high risk for developing a second cancer by going over your treatment and family history with your doctor. In some cases, early or more frequent screening may be recommended to increase the likelihood that second cancers are detected early, when they are most effectively treated. Be sure to get all screening tests that are recommended for you.
What monitoring is recommended?
By practicing good health measures, you can improve your awareness of changes in your body and increase the likelihood that problems will be detected at earlier, more treatable stages. All long term transplant survivors should have a yearly comprehensive health check-up. You should also have any recommended cancer screening evaluations appropriate for you based on your age, sex, and treatment history. Common screening tests include skin checks, mammography, PAP smears, colonoscopy or prostate checks.
What symptoms should I be alert for?
Be sure to report any new or persistent symptoms to your healthcare provider promptly. Types of symptoms that you should report include:
Easy bruising or bleeding
Excessive fatigue
Bone pain
Changes in moles
Sores that do not heal
Lumps
Changes in bowel habits
Persistent abdominal pain
Blood in your faeces (stool)
Unexplained weight loss
Shortness of breath
Persistent cough or hoarseness
Bloody sputum (spit)
Mouth ulcers that do not heal
Persistent headaches
Vision changes
What can I do to lower the risk of getting a second cancer?
Avoid cancer-promoting habits
Don't smoke. Transplant patients should never smoke and should avoid exposure to second hand smoke.
Find out more about lung health for stem cell transplant patients.
Protect your skin. Because skin cancers are one of the most common second cancers after stem cell transplantation, especially for those treated with radiation therapy (such as TBI), you should take extra care to protect your skin from sun exposure. This includes regularly using sunscreen with sun protection factor (SPF) of 15 or more, wearing protective clothing and avoiding outdoor activities from 10am to 2pm.
Find out more about skin health and skin cancers for stem cell transplant patients.
Drink alcohol only in moderation. Heavy drinkers, especially those who also smoke, have a high risk of cancer of the mouth, throat, oesophagus and liver. The risk of breast cancer may be increased in women who drink alcohol. Limiting the use of alcohol can reduce these cancer risks and decrease the chances of other alcohol-related problems, such as liver disease. There's no evidence that alcoholic drinks provide any protection against cancer.
Eat a healthy diet. To reduce the risk of certain cancers we recommend a healthy body weight, regular exercise and a healthy diet. Eat plenty of fruits and vegetables to reduce the risk of cancer of the mouth, oesophagus, stomach and bowel. Eating red meat and, in particular, processed meat, may increase the risk of bowel cancer, therefore eat only moderate amounts of fresh red meat (up to 100g of cooked red meat), 3 - 4 times a week and avoid eating processed meats. High-fat diets are associated with obesity, heart disease, and are a risk factor for several cancers. As part of an overall healthy diet, limit saturated fats - those found in meat and dairy products, but also in cakes, biscuits, snack foods and take-away foods - and moderate total fat intake. Good fats (polyunsaturated and monounsaturated) can be found in margarines, nuts, avocados and seeds.
Find out more about diet and physical activity for stem cell transplant patients.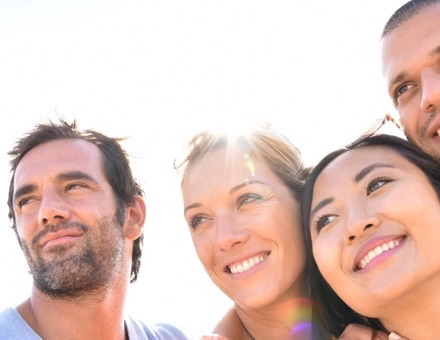 We care for and treat people who have ongoing health problems caused by cancer or cancer treatment.
Find out more